Your Qualified Spring Sprinkler Repair Team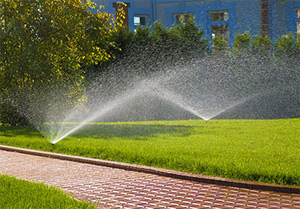 If it's been a while since you've had a complete spring sprinkler repair service, let's remedy that today. My professional Spring sprinkler repair team is up for any challenge. I've personally been a sprinkler installer and technician for over 5 years and have hand-picked and trained my team so you get the best of the best in Spring sprinkler repair service. Your landscape irrigation is a precisely tuned machine and needs qualified techs to make sure it is running its best. I guarantee that I've got the team to handle it.
Seasonal Maintenance Is Important For All Irrigation Systems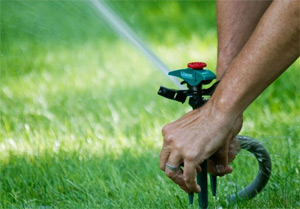 A system should be checked at least twice a year – once in spring, before you need to run your system full blast, and once for fall clean-up and winterizing. If you haven't been doing these things, your sprinkler system is costing you money. Just because the heads are coming up and spraying, doesn't mean they are delivering the right amount of irrigation to your lawn. A single clogged nozzle can throw off the water delivery of the whole irrigation system. Symptoms of this type of problem are easy to spot. You'll have certain areas of turf that are lush and green, others that have thinner, leggy growth and still others where the turf is low and it isn't as vibrant as the rest. One bad sprinkler head can do this.
We Come Prepared For a Variety of Irrigation Needs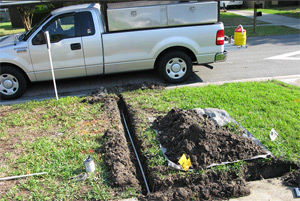 Of course, sprinkler heads aren't the only parts of your irrigation system that might break. That's why I stock several hundred different sprinkler parts and tools on my trucks, including heads, valves, pipes, fittings, risers, timers, wiring equipment, and a lot more. My full service repair team can fix backflow issues, underground supply line leaks, valve failures, controller programming, water sensors and more with no need to wait. Having these factory direct parts on the truck means that none of my techs are leaving the job site to pick up an inferior part from the local hardware store. I get my supplies directly from Rain Bird, Hunter, Irritirol, Weathermatic and other major sprinkler component companies because I believe in quality.
I don't run a discount sprinkler repair shop. I don't have the lowest prices in town. There's a reason for that. I make sure that my workers get paid what they deserve and that you get the service and quality part you deserve. I won't cut corners and hope that the ground will hide all of my shortcuts. I make sure every job is done right the first time. My word is my bond and I will make sure that you get uncompromising service whenever you call my Spring irrigation repair team.
We Are Specialized To Handle Any Sprinkler Repair In Spring TX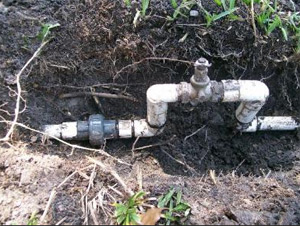 My team stays up to date on the latest technology and best practices in the industry. We know the best ways to find a leaky valve, when to check for root intrusions, which nozzle is right for delicate plantings and everything else there is to know about landscape irrigation. Our specialists actually specialize in what they do. They haven't taken an internet course to get a worthless accreditation. Instead they have learned through hands on training from me. They know things about older systems that isn't even in the new course material.
I don't claim to be a world-class sprinkler repair tech, but I'm the best you'll find in this area. If you've had trouble with another company or are just starting out new, call my Spring sprinkler repair company and see what professionals look like.