The #1 Sprinkler Repair Team in Humble, TX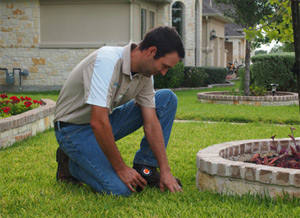 It's not hard to be Humble's top sprinkler repair team. All you need to do is be better than my team 5 days a week. Ok, so it is hard. My team has been delivering top notch irrigation repair to sprinkler systems in Spring and Humble for almost 20 years. We don't pretend to be the cheapest service in the area because, let's face it, you get what you pay for. A cheap sprinkler repair guy might be able to switch out your broken sprinkler head but he won't be able to recalibrate your system or diagnose any other problems that may be costing you money. Our professional Humble sprinkler repair team can do that.
When I first started my Humble sprinkler repair company, I was the only employee. I had been doing HVAC and plumbing repairs for a while and had just branched out to sprinkler repair as well. Sprinklers were far and away more touchy than either of the others. After a few months I realized that I couldn't do most of the repairs I needed to because I didn't know how, nor did I have the right equipment. It was then that I decided to save up some cash and get the right equipment for the job. There wasn't another sprinkler repair contractor in Humble at the time and I was quickly overbooked. By the end of my first year in business I was burnt out and ended up hiring my first two employees (who are both still with me). My Humble sprinkler repair team has been growing ever since.
We Work With A Wide Variety of Sprinkler Systems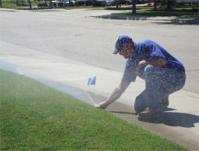 Some companies will only repair your existing system if it's under 15 years old. That's because they don't have the right equipment or know how to fix the older systems. I've worked on them long enough to know exactly how to handle older systems. I won't be asking you to upgrade to "newer and better" versions – there's no need. Most older systems just need a bit of TLC and the right sprinkler heads to make them perfect for your landscape.
We Have The Right Team For You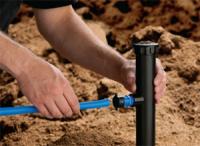 Don't bank on the big name companies to care about your systems the way that we do. We have that mom and pop feel because I make sure of it. All of my employees are interviewed and hand-picked by me to meet the standards that I have come to expect.
You won't find a better trained, more talented, more professional team in all of Humble. Call us now and find out for yourself.
---
Servicing Humble, TX. 77338, 77346, and 77396